Is a Ring Set Right for Me?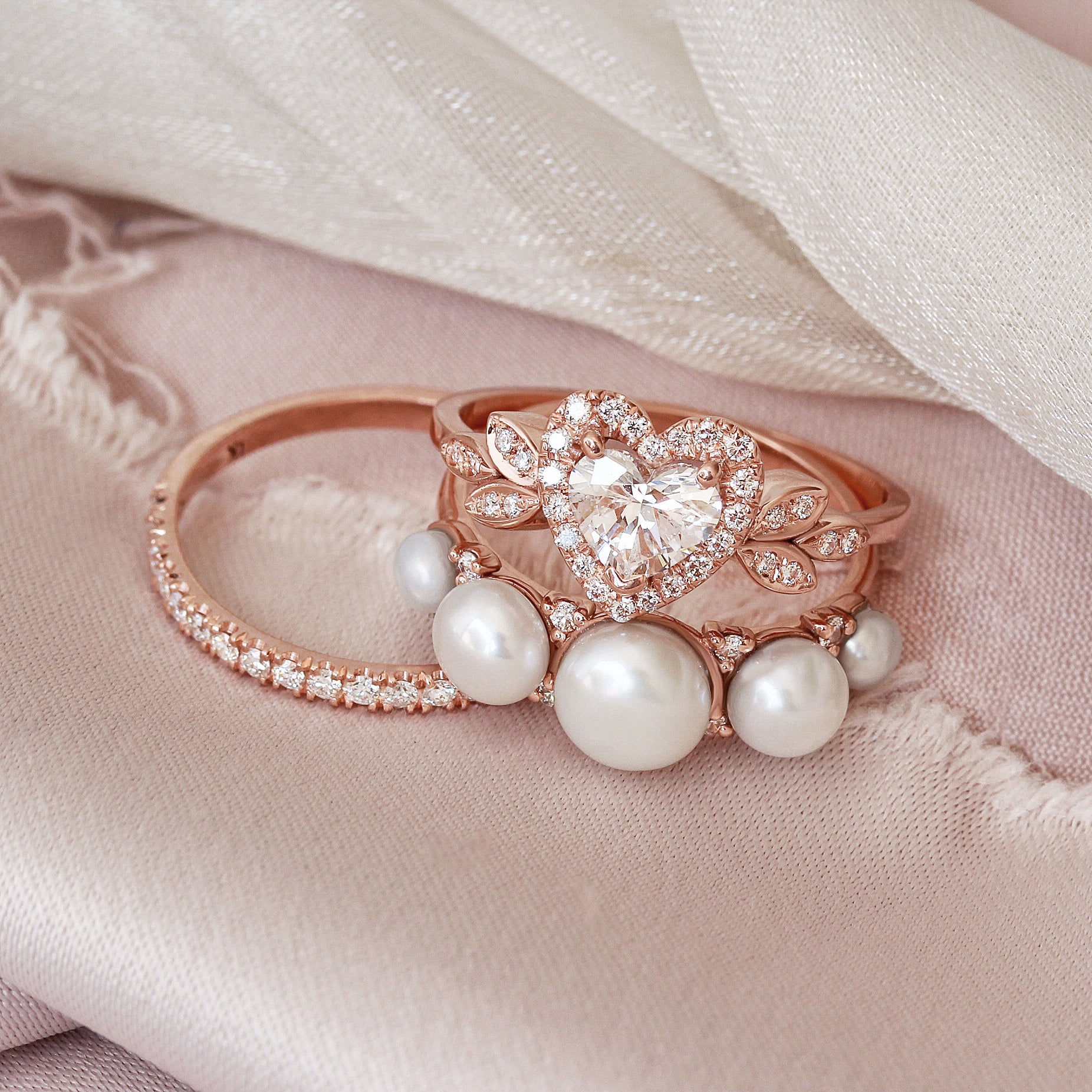 Everybody loves when two things go perfectly together: peanut butter and jelly, pineapple and coconut, or two people in love. Why not have your ring follow suit?
            Choosing a two or three-ring set can amplify the beauty of your ring to make it more eye-catching and unique. A ring set can also guard your main gemstone against damage. Read more below to discover more about ring sets and how they can help you achieve your desired look!
More Room for Personalization
            Many people will buy the same engagement or wedding ring for their loved one. Meaning the ring you get is likely being worn by someone else out there. Adding a ring set can customize the look of that ring and make it more 'you'!
            There are plenty of different bands in many different colors of finishes to compliment your look. Some ring sets, such as
this one
, create a stunning frame for your gemstone of choice to become the centerpiece. If you're more of a minimalist, you can go with a dainty ring set such as
this
which allows for a unique and breathtaking look, without being too large or distracting.
            A huge benefit of ring sets overall is how much they can be customized. You can wear one alone or wear them all together where they will fit perfectly, interlocking with one another to create a standalone look. In the interest of saving time and money, the main ring can be used as the engagement ring, and the other can be used as the wedding band. This is a nice approach because the wedding ring will interlock with the engagement ring, symbolizing love and commitment.
Protection
Choosing a ring stack that frames or otherwise guards your main stone can be a smart move using protection. If the ring is hit against a hard surface or at an angle, the other rings in the set may absorb some of that first. Of course, ideally, no ring ever gets damaged, but everyone hits their hand on something occasionally. Going with a set can help minimize the damage that the main gemstone may take from any accidental damages.
Daily Wear
            Maybe you are traveling out to a big city and do not want to have your whole ring out in the open, but you still want to wear a symbol of your love and devotion. If you purchase a modular set of rings, you can easily choose which to wear each day. 
Perhaps for a big event, you want to wear the whole set and show off its beauty! Or maybe you work a very hands-on job and fear getting your ring dirty, so you choose to wear only one of the thinner and less bulky bands to work.
            One of the great things about a ring set is you do not have to choose between a large and breathtaking ring or a daintier and more practical ring for everyday wear. The set essentially gives you the option to do whatever makes the most sense that day - without compromising on look or practicality! 
Mix and Match Stones
            Perhaps you go with a beautiful pear-shaped opal stone for your engagement ring. Alone, this ring is gorgeous. However, maybe you wanted a little bit of shine or glitz that can only be achieved with another type of gem. Worry not! Opting for something like
this ring set
allows you to enjoy the beautiful, natural diamond side stones that are sure to be an eye-catcher for everyone you meet. 
            Even if your center stone is a classic diamond, you may choose a ring set that features a pop of color in one of the bands, such as
this set
which adds a beautiful pop of deep purple gems. You can also mix metals to stack rose gold and silver, silver and gold, or whatever other combination of band strikes your eye. It is nice to not have to commit to one certain color of metal - so you can more easily match other accessories like earrings, necklaces, and bracelets to your ring every day.
            The ability to customize your gemstones and metals instead of choosing strictly one is a game changer - it allows you to have the 'best of both worlds' mixing gemstones, ring styles, and metal colors to create the perfect ring for you and your tastes! 
Wedding Day Wear
            After the wedding, you may find yourself trying to stack your flat wedding band on top of or below your engagement ring. Perhaps you try wearing one ring on one hand and one on the other. The truth is the band may not fit nicely on one finger with the engagement ring. It doesn't have to be this way, though! 
            Going with a set can be a great way to ensure your wedding band will fit seamlessly with your engagement ring. Using a ring that stacks perfectly on top of your engagement ring as a wedding band can ensure a great transition. You can also rest assured that your wedding day photos will look great, as the band will just add to the overall beauty of the ring, and make it look more complete!
            You'll likely find everyday wear is much more comfortable when the rings fit great together (and look even better), and therefore get more wear out of both your engagement and wedding band.
In Conclusion
            There are so many benefits to opting for a ring set instead of a single ring. You can easily customize your set to make it perfect for you.
            Ring sets give you more freedom to express yourself and still have a beautiful symbol of your love. Sets with unique stone colors or designs can heighten the beauty of your center stone. A ring set can provide a larger array of colors, making the ring easier to match with everyday accessories. Since ring stacks are modular, they can be worn alone as well, allowing for more flexibility and practicality.
            Choosing a ring stack is an all-around good choice for those who want a unique and memorable ring. Your love isn't like anyone else's - so why should your ring be?